January 1, 2009
Clay Cowgill is selling Uzebox kits made of his BAseboard and AVCore module. If you are interested send him a personal message on this board (
clay1919
) or contact him through email at "clay -at- embeddedengineeringllc -dot- com". The kit price is USD$105 ($100 without SNES controller and A/V cables) plus $8 shipping by FedEx ground. It is a fully assembled kit and includes:
1 Uzebox AVCore module with MicroSD
1 Baseboard with SNES connectors, audio, composite, S-VIDEO and power jacks
1 SNES controller clone
1 A/V cable
1 S-VIDEO cable
1 Power supply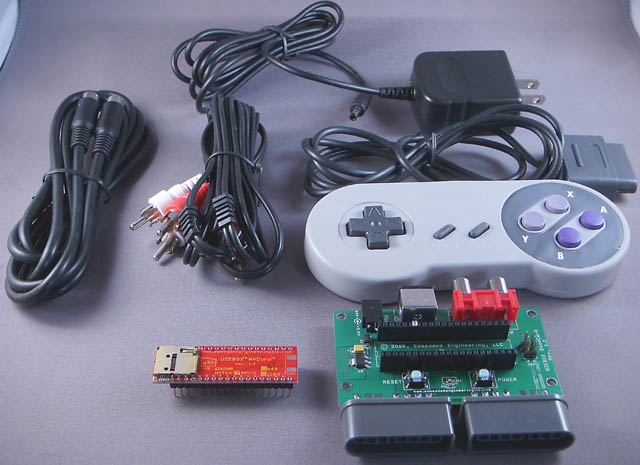 Sparkfun Electronics
now stocks the Uzebox! They have a nice yellow version of the baseboard etched with the new Uzebox logo. They sell stuff "a la carte", i.e: you can buy only a AVCore module or baseboard for instance.
Buy it here!
Note that the Uzebox outputs NTSC signal. Hence it will not work in Europe with PAL or SECAM TVs, unless those accepts NTSC (which is common these days).
You will need an AVR programmer to flash your programs. I usually recommend the AVRISP MKII found at
Digikey
. There is also other models available at
Sparkfun
and
Ladyada's store
.
Some asked where they can find the schematics for the AVCore:
http://belogic.com/uzebox/files/UZEBOX_ ... ematic.pdf
-Uze