Hello guys,
I thought to myself, I'll quickly program another game (in 6 hours).
Here it is: football.
Who remembers the old handheld from Mattel?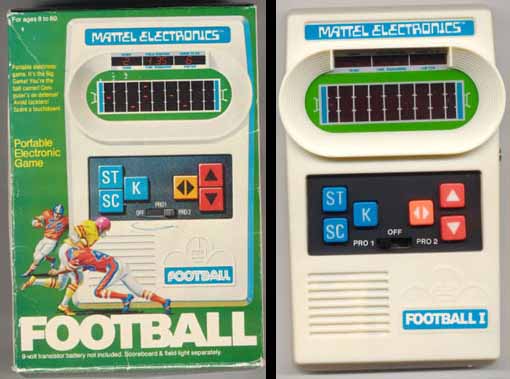 Well, I recreated it for the Uzebox.
For the controls and instructions, just google MATTEL FOOTBALL. The original instructions are there. But I will soon create a short guide and game description for the wiki.
Short explanation:
Either you play alone or in pairs. If you play alone you have to play for your opponent after changing sides.
You are the bright blinking LED. The other 5 are the defenders.
They try to grab you.
You have to go from one side of the field to the other.
You start at 20 yards and have to get 80 yards. Next to the yards you can see which side of the field the ball is on. -| In the left field and |- in the right field.
If you get caught, the down is over. There are 3 downs.
Unless you manage at least 10 yards per down (shown above right). Then you save yourself and stay on the turn. If you make it far enough and are on the 3rd down you can choose to run the last try or shoot the ball. It just depends on how many yards you still have ahead of you.
If you go 100 yards, there is a touchdown and it's the next player's turn. Until the time is up. Then 1 quarter is over. After the 4th quarter comes the result