I had a couple hours free to either watch TV, or play with PCB layouts... I chose the latter.
Anyway, I did a little "gamer" version baseboard to go with the Stamp. (Which I think I'll rename as a "core", just so that nobody gets confused with any Parallax stuff.)
It's pretty small-- 2.23" x 3.3". There's the socket for the "core", S-video, composite video, Audio, power input, 'power' and reset buttons, a power LED, and then either NES or SNES ports (or both, I suppose).
Active circuitry wise there's the 'high quality' audio filter (which is jumperable to either 'no filter' or 'cheap filter' options), a "hardware" soft power switch (using a CD4027 and a rail-switch to toggle power to the regulator), and a 5V LDO regulator. The LED can either be tied directly to +5V, or be driven by PD4 on the AVR.
There's an ISP header on the board for convenience and four mounting holes for PCB standoffs or whatever.
I'm not going to order any until I see the SNES connectors in the multitap-- if they'll work I'll probably switch to them just to have something near term and I might stick a connector for the Playstation controller on as an option instead of the SNES (they'd occupy the same place on the PCB).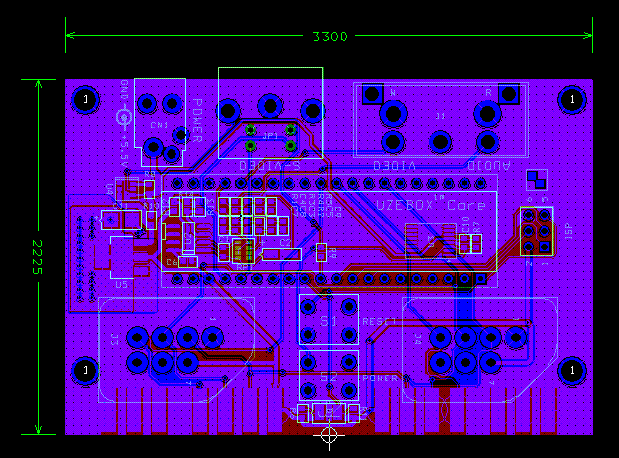 -Clay